Best Of Paper Pack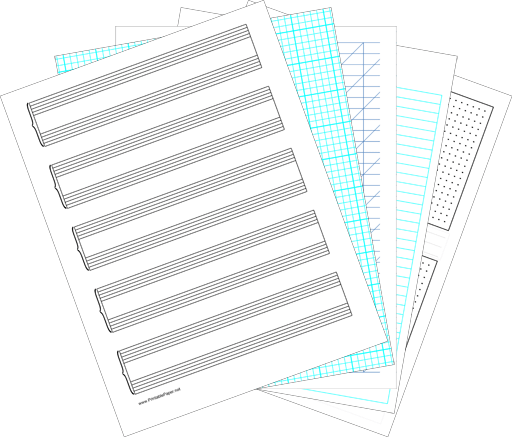 Best of Printable Paper Pack
Curated from among the printables at the popular website PrintablePaper.net, these lined, graph, and specialty papers were specially selected to be of use to everyone from students to businesspeople.
These 50 printable sheets are handy for notetaking, school, mathematics, art, music, and much more. They're the best of the best from PrintablePaper.net.
This document contains a rundown of what you'll find in this Printables Pack. They are easy to print in PDF format. You can customize and print these items as many times as you'd like for your own personal use.
Lined Paper
Now, wide, narrow, and college-ruled letter-sized paper is at your fingertips. There are legal and ledger sized sheets as well. Print these sheets as-needed for school assignments, note-taking, and so on. There's also yellow legal pad style paper, Cornell note-taking paper, French-ruled paper, shorthand paper, and light red colored paper. Besides basic lined paper, there's numbered paper, paper with hole punches indicated, and a sheet of six mini papers to fold up and take on the go.
Graph Paper
There's a broad range of graph papers represented in this mini collection of favorites from PrintablePaper.net. You'll find the most popular variations of spacing and index lines. Besides basic grid paper, there's a sheet each of hexagon, isometric, and polar graph paper.
Dot Paper
Dot paper is great for drawing, games, and lots of other purposes. This Pack includes versions with different spacing between the dots, four mini dotted areas on a single sheet, and isometric dot paper. Both letter and ledger sizes are included. Penmanship Paper
Penmanship paper, with guidelines on which to write, is especially popular at PrintablePaper.net. There are several sheets in this Pack, in both landscape and portrait orientation. One sheet has room to fill in a student's name, while another has space for a drawing. There's also a couple of sheets of calligraphy paper.
Miscellaneous Paper
Filling out this robust collection is a selection of papers for business and leisure. There's columnar pad paper for finances, music paper for composing, and storyboard and comic book templates. Plus, there's highlighter paper and a sheet that folds into eight panels of note paper.